video by 2020 Program Team member Kari Liebert
OPENING CEREMONIES
7:00 – 8:50 pm, Thursday March 5, 2020
KEYNOTE ADDRESS
PATRICIA SHEHAN CAMPBELL
World Music Pedagogy as Pathway to Intercultural Understanding
As intercultural education seeks to promote an understanding of people in a wide array of cultures, World Music Pedagogy provides pathways for supporting students to grow more widely and deeply musical, as well as more culturally compassionate, through a pedagogical process that considers music as sound, behavior, and cultural meaning.
Patricia Shehan Campbell is Donald E. Peterson Professor of Music at the University of Washington. Author of Music, Education, and Diversity: Bridging Cultures and Communities (2018), she is also co-editor of Oxford's Global Music Series (2004-2018) and the Oxford Handbook on Children's Musical Cultures, and editor of the Routledge World Music Pedagogy Series. Campbell is recipient of the 2012 Taiji Award and the 2017 Koizumi Prize for work on the preservation of traditional music through educational practice.
OPENING CONCERT: RESONANCE ENSEMBLE
directed by Kathy Fitzgibbon
8:15 pm, Thursday March 5, 2020
Resonance Ensemble, a professional vocal ensemble, performs powerful concerts promoting meaningful social change. Their performances intentionally address themes highlighting diverse solo and choral voices, new and underrepresented composers, visual and other performing arts, and community partners. Described as "one of the Northwest's finest choirs" (Willamette Week), Resonance has been recognized nationally with an award from Chorus America and locally with multiple grants, including a 2019 Creative Heights Grant from the Oregon Community Foundation, awarding $100,000 in support of Resonance's commission and world premiere of Damien Geter's An African American Requiem, to be produced in partnership with the Oregon Symphony. 
---
MINI-CONFERENCE
MINI-CONFERENCE presented by KAREN HOWARD
Matters of Diversity in a Kodály Context: Does Diversity Matter?
1:00 – 4:00 PM, Thursday March 5, 2020
$80 – Member Price, $125 – Non-Member Price
(This is a separately ticketed event from Conference Registration)
Participants will experience teaching and learning strategies for materials from aural and written traditions. Emphasis will be placed on examination of whose music is included in our scope and sequence planning, and how that can be expanded to include the students we teach, our broader communities, and our larger global society. Strategies for recognizing and avoiding cultural appropriation are included, as well as considerations for authentic performance practice in the context of school music.  Karen Howard is an Associate Professor of Music at the University of St. Thomas. In addition to her university schedule, Dr. Howard is a national and international clinician specializing in children's music culture, ethnomusicology, creative and folk dance traditions, early childhood music education, assessment, and curriculum development.
SUNDAY SPOTLIGHT SESSION
SUNDAY SPOTLIGHT SESSION led by MAREE HENNESSY
Strive and Thrive through Music: A Focus on Maximizing Engagement, Achievement, Well-Being and Joy in Mixed Ability Settings
8:15 – 10:15 AM, Sunday March 8, 2020
How can music teachers effectively meet the needs of all students in group settings? How do we induct students into the practices of musicianship, whilst offering appropriate levels of challenge in a highly differentiated environment? Examples and discussion from school, community and teacher training sessions will be shared and explored. This is an interactive workshop.
Maree has recently relocated from Australia to Oakland, California, to oversee the renowned Masters in Music Education (Kodály) program at Holy Names. Maree has worked in music education across sectors and age groups, early childhood, school, university and community settings. She presents regularly in Australia and New Zealand. Maree has developed curriculum materials and resources designed to assist teachers in the implementation of effective music programs in schools. Maree volunteers in a local Oakland school and teaches community musicianship classes for adults, families and children at the university. She enjoys working in mixed ability contexts when developing musicianship and has a particular interest in and commitment to teacher development. Her work explores how reflective practice and collaboration can contribute to professional growth.
All registered attendees are welcome to attend the Sunday Spotlight Session. 
---
MID-DAY PERFORMANCES
Oregon Repertory Singers Expanding Voices and Treble Choir directed by Kim Skondin
The Oregon Repertory Singers Youth Choirs are a youth choir music education and performance program for students from pre-k through 12th grade. The program was established in 1994 to provide music education and choral performance opportunities for children the greater Portland and SW Washington areas. The Oregon Repertory Singers Youth Choir Music Education Program utilizes the incredible teaching of the Kodaly method. Vivo Choir-Expanding Voices is for adolescents with expanding voices. Vivo Treble Choir is open to treble voice singers with advanced musical skill level. This group is for singers who demonstrate strong musicianship skills and have experience singing in choirs or playing an instrument.
Portland State University Chamber Choir directed by Ethan Sperry
The Portland State Chamber Choir is the top choral ensemble at Portland State University. Since its founding in 1975, the Chamber Choir has performed and competed in venues across the country and around the world. In 2013, the Chamber Choir competed in the Seghizzi International Competition for Choral Singing in Gorizia, Italy where they earned 15 separate awards and became the first American Choir ever to win the Grand Prize in the competition's 52-year history. In 1999 and 2005, the Chamber Choir won four medals at choral competitions in Martkoberdorf, Germany.
---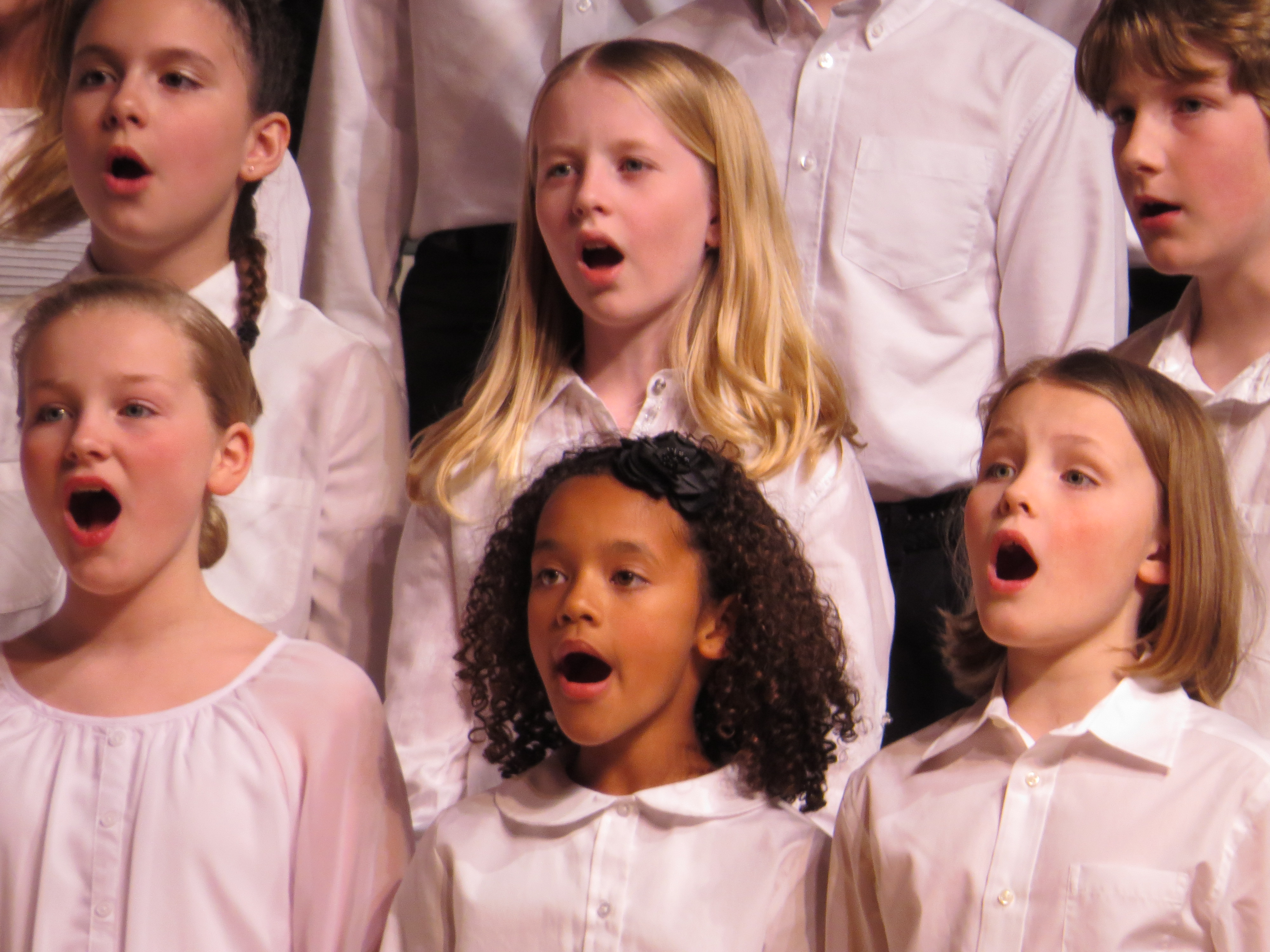 OAKE NATIONAL HONOR CHOIRS CONCERTS
OAKE National Conference Choirs Concerts Information 
This year there will be two OAKE National Choir concerts on Saturday, featuring two ensembles per performance:
1) Children's and Concert Women's (late matinee), 2) Youth and Chamber Ensemble (evening). 
The venue is vibrant, yet small, and there is a possibility the first concert will sell out. OAKE will prioritize families and teachers of choir students having the opportunity to see their singers. Both concerts will be shown via video at the conference hotel and we encourage professional conference attendees to watch these closed-circuit versions. OAKE will communicate with Conference Attendees, Teachers and Families in the event that there are available tickets for sale.
Stay tuned for parking information, transportation to venue maps, and other information as we get closer to the Conference.