The following list of events is listed in chronological order at the Conference
THURSDAY
MINI-CONFERENCE presented by ALICE HAMMEL
Teaching Music to Students with Autism Spectrum Disorder
1 – 4 pm Thursday, March 3, 2022
$80 – Member Price, $125 – Non-Member Price
(This is a separately ticketed event from Conference Registration)
Students with Autism Spectrum Disorder often find they struggle in three or more domains. The three most common are cognition, communication, and sensory. This workshop will focus on ways to address these domains, and assist students with ASD in music classrooms and ensembles. The workshop is active and participatory.
Dr. Alice Hammel, Virginia Music Educator Association Outstanding Educator (2018) and current President Elect of the Virginia Music Educators Association, is a widely known music educator, author, and clinician whose experience in music is extraordinarily diverse. She is a member of the faculty of James Madison University, and has many years of experience teaching instrumental and choral music in public and private schools. Dr. Hammel has put these varied experiences to great use while compiling a large body of scholarly work. Dr. Hammel is President of the Council for Exceptional Children – Division for Visual and Performing Arts Education.
OPENING CEREMONIES   
7:00 pm Thursday, March 3, 2022
KEYNOTE ADDRESS by ROLLO DILWORTH
Be the Change: Transition and Transformation Through Music Education
Similar to other arts disciplines, music and music education can serve as catalysts for change, as responses to change, or perhaps both at the same time. What are the forces that have caused the field of music education to change, and how, in the 21st century, can the field provide relevant, meaningful, and transformative experiences for the students being served? How can students, educators, and other stakeholders benefit from the opportunity to reimagine music teaching and learning in an ever-expanding global community?
Rollo Dilworth is Vice Dean and Professor of Choral Music Education in the Department of Music Education and Therapy at Temple University's Center for the Performing and Cinematic Arts in Philadelphia, PA. In addition to more than 150 choral compositions and arrangements, he has authored 3 choral warm up books entitled Choir Builders. Dilworth is a frequent guest conductor of all-state, honors, festival, community, church, and professional choirs. He is an active clinician and presenter on topics including African American choral music, composing/arranging for choirs, social justice, cultural appropriation, urban music education, community engagement, and diversity, equity, and inclusion.
OPENING CONCERT: University of Pittsburgh African Drum and Dance Ensemble directed by Yamoussa Camara

Join us opening night for an African Drum and Dance concert! Through drumming, voice, dance, and other musical and visual art forms, the University of Pittsburgh African Drum and Dance Ensemble brings to the stage a unique African theatrical experience.  The University of Pittsburgh African Drum and Dance ensemble under the direction of Yamoussa Camara perform exciting and energetic music and dance from Guinea, West Africa. Born in the village of Boke, Guinea, W. Africa in 1966, Yamoussa Camara took to his drum at an early age. During his sixteen year association as first student then protege of Mohamed Kemoko Sano, choreographer and artistic director of both national companies, Djoliba and Les Ballets Africains, plus founder and director of Les Merveilles d'Afrique, Yamoussa had the distinction of being the youngest lead drummer in the Ballets Africains. While with the national companies he has toured Europe, Africa and the United States. His drum is featured on the CD's, master's of the forest, Diya, Eh. Allah & both CD and video of Les Ballets Africain's performance in England. Yamoussa currently teaches African music and dance at the University of Pittsburgh and Point Park University.
THURSDAY DANCING with Los Sabrosos Dance Co
Directly after the Opening Ceremonies

After the opening ceremonies, come join us for salsa dancing! We will learn from professionals with Los Sabrosos Dance Co. Be ready to have fun and move!
Los Sabrosos Dance Co. is a dance and fitness organization whose mission is to help individuals find freedom, passion, self-expression, and self-confidence through dancing & fitness. LS Dance Co. offers confidence-building group and private dance classes for diverse interests, from Salsa & Bachata to Ballroom classes (waltz, jive, rumba, etc), Yoga, Hip-Hop, Bellydance, Zumba, Fitness classes, and more! LS Dance Co. started as a part-time project by Nicolette Pawlowski & Agustin Garcia, to support their work while Agustin ran a restaurant and Nicolette finished her Ph.D. Nicolette's uncle, Martin, recommended the name Los Sabrosos, as it meant "full of flavor", which is how we wanted to teach people to dance. The small project grew into a multi-dance operation, with its own storefront space. 
---
FRIDAY
FRIDAY MID-DAY PERFORMANCES
Pittsburgh Girls Choir Chamber Ensemble presents "Sing Out, My Soul!"
Sing out My Soul is a concert celebrating the joy of singing together again after being silenced by the pandemic. Pittsburgh Girls Choir is committed to being a voice for women by featuring diverse works by women composers and poets. Lucretia Vizzana (17th C), Sarah Quartel, Andrea Ramsey and Rosephanye Powell will be featured in works celebrating singing, creation, children and the lives of those we have lost. We joyfully anticipate sharing our voices with you!  Pittsburgh Girls Choir welcomes girls of all races, ethnicities and socioeconomic backgrounds into our supportive community committed to artistic excellence through an exemplary music education program. It includes 5 sequential ensembles for 1st – 12th graders. Chamber Choir is the premier ensemble of PGC. Membership is by invitation only and offers musically experienced members of Concentio (8th – 12th grade choir) the opportunity to make an extraordinary commitment to choral singing. Singers rehearse 2 – 3 times per week and perform 10 – 20 concerts annually. 
University of Pittsburgh Gamelan Ensemble
The University of Pittsburgh Gamelan Ensemble specializes in the study and performance of the music of West Java, Indonesia. Students learn the music by rote method, learning multiple instrumental parts and how they fit together in performance. The conference performance will feature selections of West Javanese classical and contemporary music to be featured in the group's annual Spring Concert.  The University of Pittsburgh Gamelan Ensemble was founded in 1997 by Andrew Weintraub. Gamelan refers to a set of predominantly percussion instruments including tuned gongs, metal-keyed instruments, and drums (as well as bowed lute and voice). Over its 25 year history the ensemble has developed a notable guest artist series hosting musicians from Indonesia to teach and collaborative with Pitt students. The ensemble is currently led by Jay Arms, lecturer of ethnomusicology at Pitt.
FRIDAY NIGHT EVENT: OUR MUSICAL NEIGHBORHOOD
This is a ticketed event. Ticket included with Conference Registration.

Our Musical Neighborhood is this year's Friday night event, celebrating the contributions of Pittsburgh's own Fred Rogers and his popular PBS program Mr. Rogers Neighborhood.
Bring your favorite cardigan and join the fun along with light hors d'oeuvres and refreshments. Dance the night away with music provided by Premium Soundz DJ Service, make some new friends at the "Greet a New Neighbor" break, and don't forget to grab your friends for a keepsake photo shoot at the Pittsburgh Prestige Photo Booth.
---
SATURDAY
OAKE NATIONAL HONOR CHOIRS CONCERTS
First Concert: 5 pm, Second Concert: 7:15 pm, Saturday March 5, 2022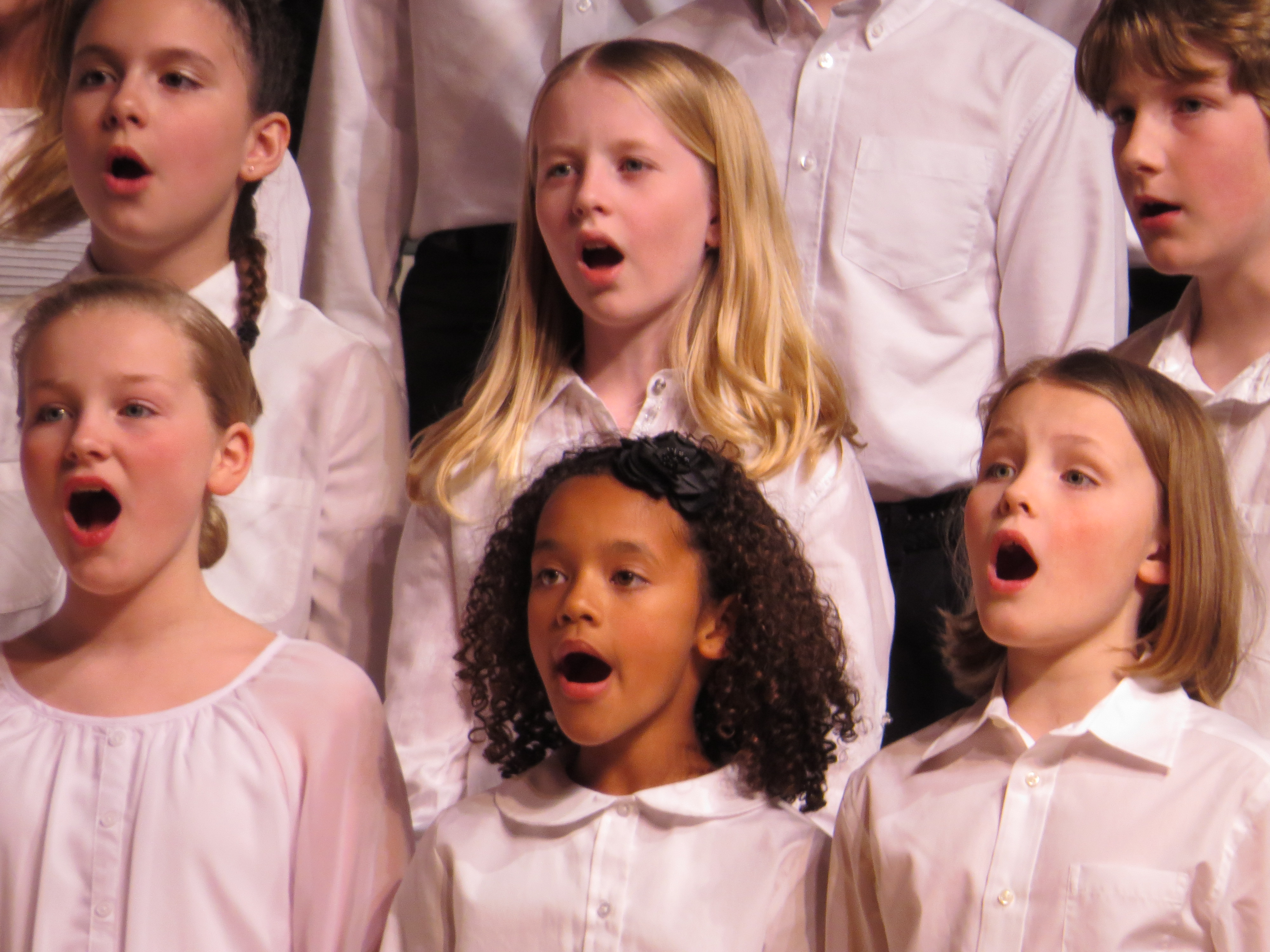 The National Conference culminates in the performance of singers selected to participate in the OAKE National Honor Choirs. There are four audition-based OAKE National Conference Choirs, each led by a nationally renowned conductor. Accepted singers learn and memorize music at home with their own teachers before going to the conference city. The National Honor Choir Concert is a beautiful expression of bringing singers together from across the country to make music together. 
This year there will be two OAKE National Choir concerts Saturday featuring two ensembles per performance.
Concert 1: Children's Choir, Concert Treble Choir, 5:00 – 6:10 pm
Concert 2: Youth Treble Choir, Chamber Choir, 7:15 – 8:30 pm
Stay tuned for more information as we get closer to the Conference. 
PRESIDENT'S RECEPTION
Saturday evening following the final concert
This is a ticketed event. Ticket included with Conference Registration. 
Relax with friends new and old at the President's Reception after the final evening concert with evening entertainment by jazz pianist Dustin Hunley. Light hors d'oeuvres and refreshments will be served. 
---
SUNDAY
SUNDAY SPOTLIGHT SESSION presented by ANDREW ELLINGSEN

Kodály and Orff-Schulwerk: Building a Bridge to Reach All Students
Sunday morning, March 6, 2022
Music teachers often feel they need to choose between the Kodály and Orff Schulwerk philosophies of music education, but both approaches center on helping children discover music and creativity in a natural way. Why choose when you can do both? Come sing, say, dance, and play – see how incorporating techniques from both Orff Schulwerk and Kodály inspired teaching can strengthen the teaching already happening in your classroom and build bridges that reach more learners. Participants will learn a variety of repertoire ranging from folk music to source material from the Orff Schulwerk volumes and will explore how the two pedagogies can intertwine to support students in their music making and musical learning.
All registered attendees are welcome to attend the Sunday Spotlight Session.